I very recently had the wonderful and rare opportunity to partake in a "Blue Cruise" aboard a luxury gulet… with twelve of some of my dearest friends.
The evocative term 'Blue Cruise' describes the marvelous cruise taken for several days along the bluest, clearest of seas along the Turkish Coast. It covers the whole rich experience of bay hopping, swimming, snorkeling, walking ashore in the forest and on the hillsides, visiting villages and exploring the stones of ancient sites, but above all… living and relaxing on a beautiful wooden boat, "away from it all".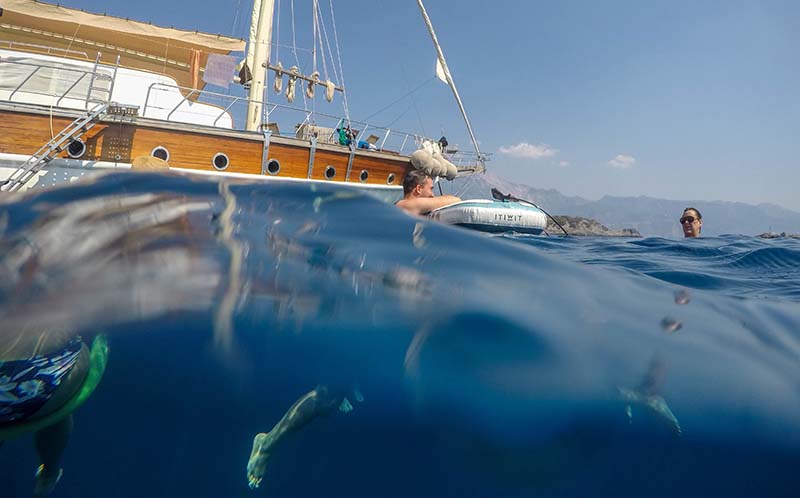 The Blue Cruise can truly only be experienced in a gulet. A gulet is a beautifully shaped, spacious, wooden boat, crafted in the city of Bodrum by boatbuilders who have learned their craft from previous generations. The generous deck space has been tailored to provide the ideal sunbathing, lounging, and dining space. Modern technology now allows for incredible degrees of luxury compared to the basic fishing and sponge diving boats used by the early pioneers of the Blue Cruise.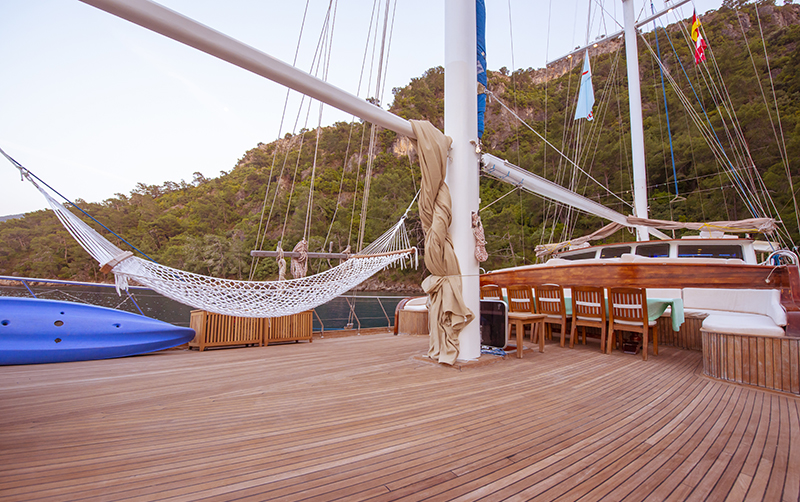 With unspoiled nature and the most remarkably clear and clean turquoise blue seas of the Mediterranean, these are some of the safest waters to swim in the world. They are tideless and calm, with the most friendly and benign inhabitants such as dolphins, turtles, tiny fish, and a few birds.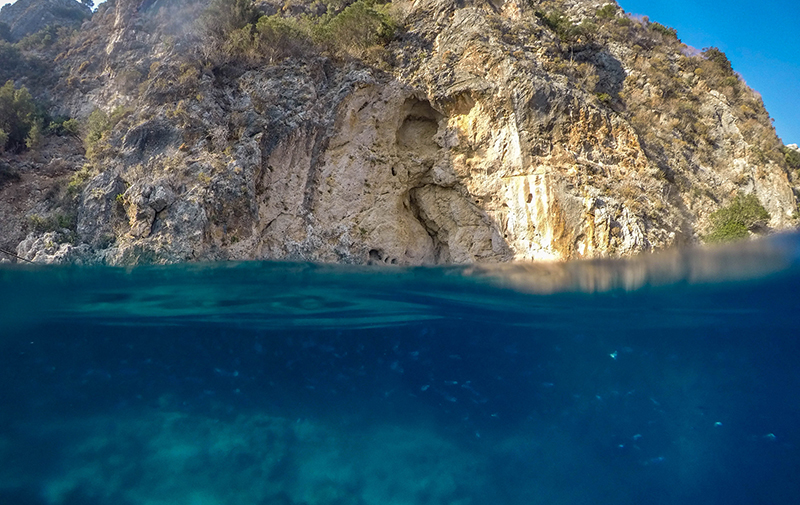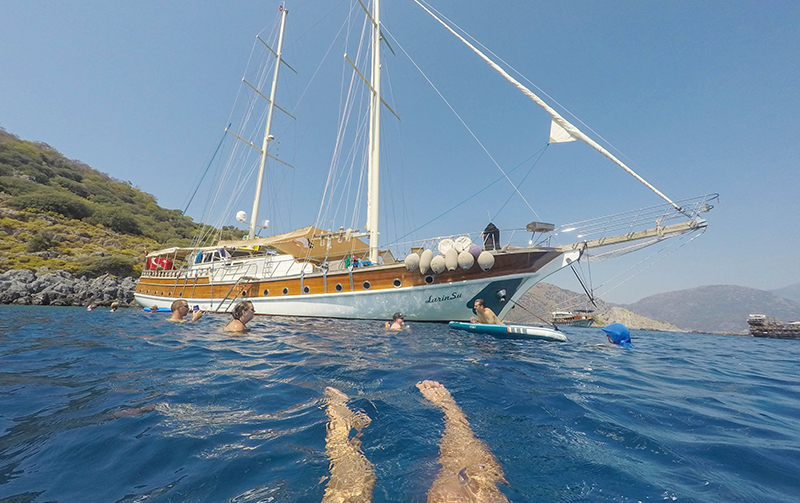 Stretching from Fethiye to Antalya, this stretch of coastline (known as the Turquoise Coast) contains not only gorgeous beaches, but it's positively covered in ancient ruins that are free and open to explore.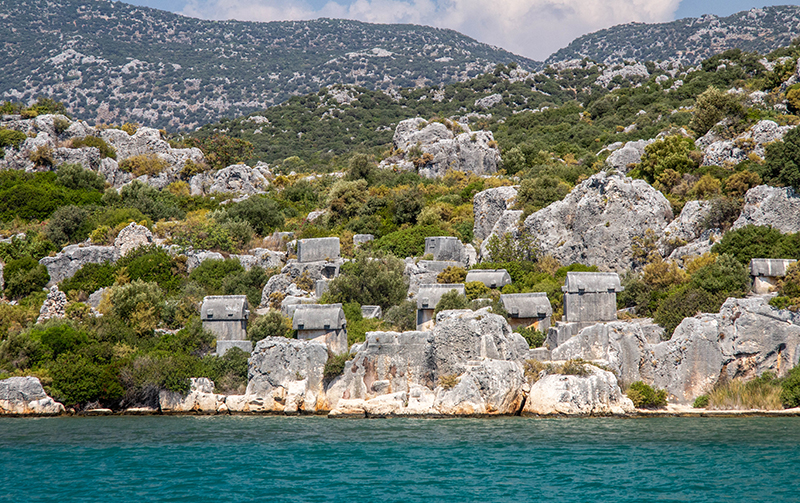 Time aboard the gulet is very relaxed.  In between having great fun while exploring the Turquoise Coast, into and around the deep indented bays with their many sheltered coves, and exploring the stones of ancient sites or villages, there is plenty of time for napping, swimming and enjoying the incredible food provided by the crew.
A typical day includes an early morning swim, breakfast, moving from one bay to the next, exploring the ancient ruins, another swim, lunch, a nap, high tea, more swimming or exploring or napping, another swim, dinner…. and repeat!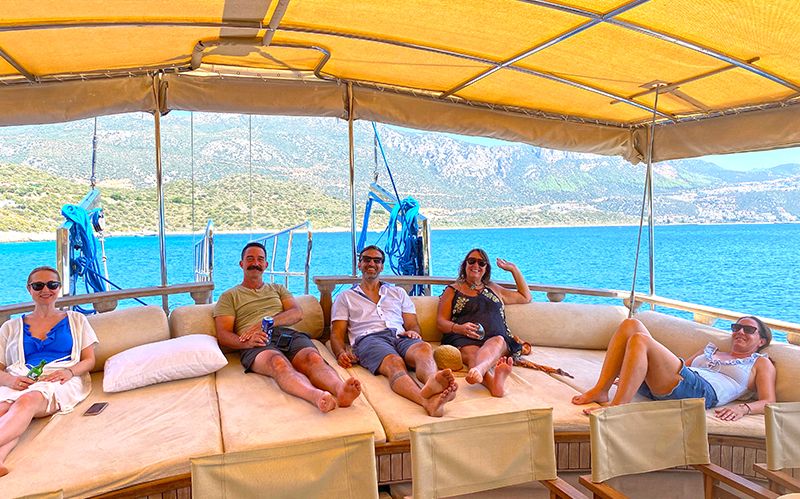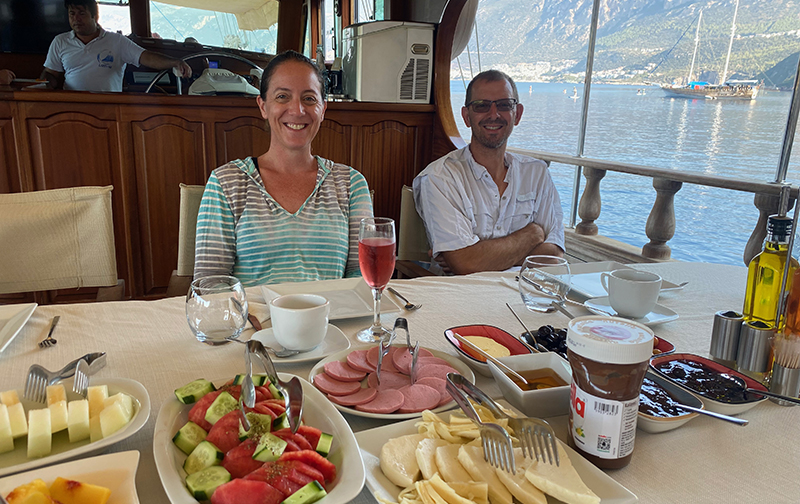 One of the many highlights of the Blue Cruise was a couple of days at Kekova Sunken City.
Kekova is not only known for its gorgeous turquoise sea but also its ancient and mysterious sunken city. Every summer, visitors arrive on Gulet tours to look out over the water to see the remains of a once flourishing city now completely underwater with only a few remnants on land to speak of its existence.
You'll come across the underwater ruins of Dolchiste, an ancient Lycian settlement, which was partly overtaken by the sea due to an earthquake that occurred during the 2nd century.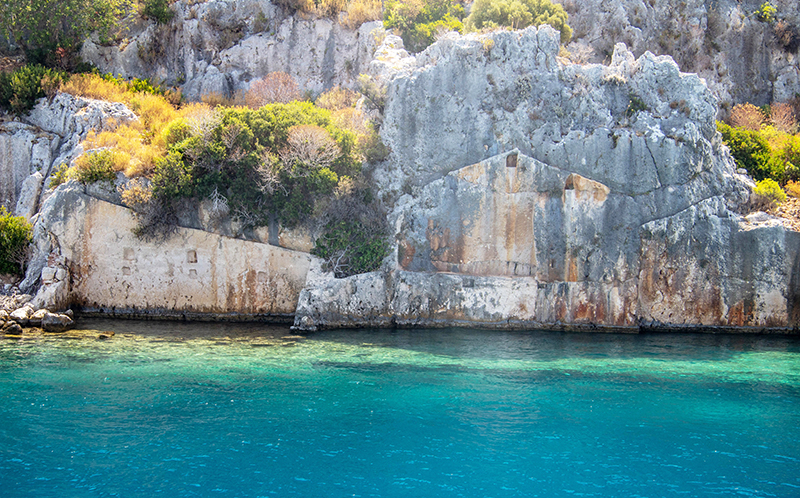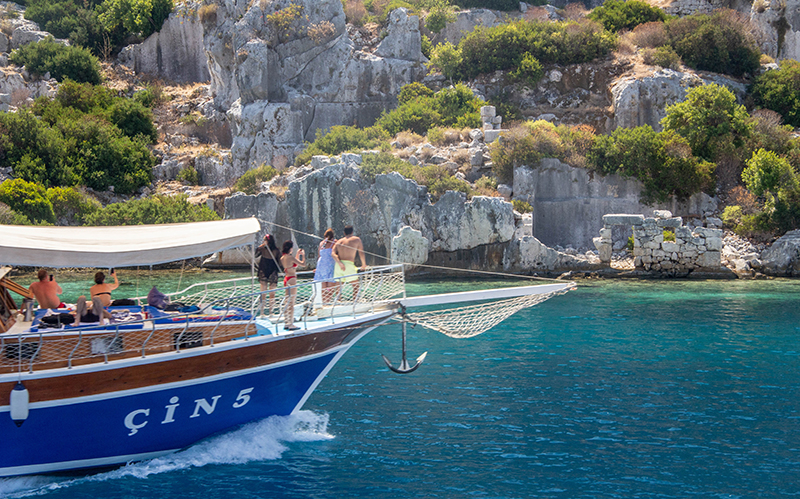 This was my fourth experience traveling by gulet and I have always found it to be an unforgettable holiday.  It's definitely one of my very favorite ways to travel.  
Everyone, from a couple to family groups or larger groups of friends, will enjoy this marvelous, informal, relaxing holiday afloat.