If you're lucky enough to be headed to the Amalfi Coast, there are a multitude of choices as to which town you would want to stay.  Sorrento, Amalfi, Ravello… all great options.  On this most recent visit, I had the opportunity to stay in Positano for the first time with my husband
There are many benefits to staying in Positano. It's centrally located on the Amalfi Coast and has water taxis and ferries you can easily ride to neighboring towns. The area has a lot of accommodation options, many of which are 5-star with room rates well above €1,000 per night… but we were introduced to a more budget-friendly gem which I'll share below. 
Positano is a very popular tourist town, which means there are shops, restaurants, and a nice beach to relax on. In addition, Positano is literally a cliff town, meaning the higher up you stay, the harder it is to get to.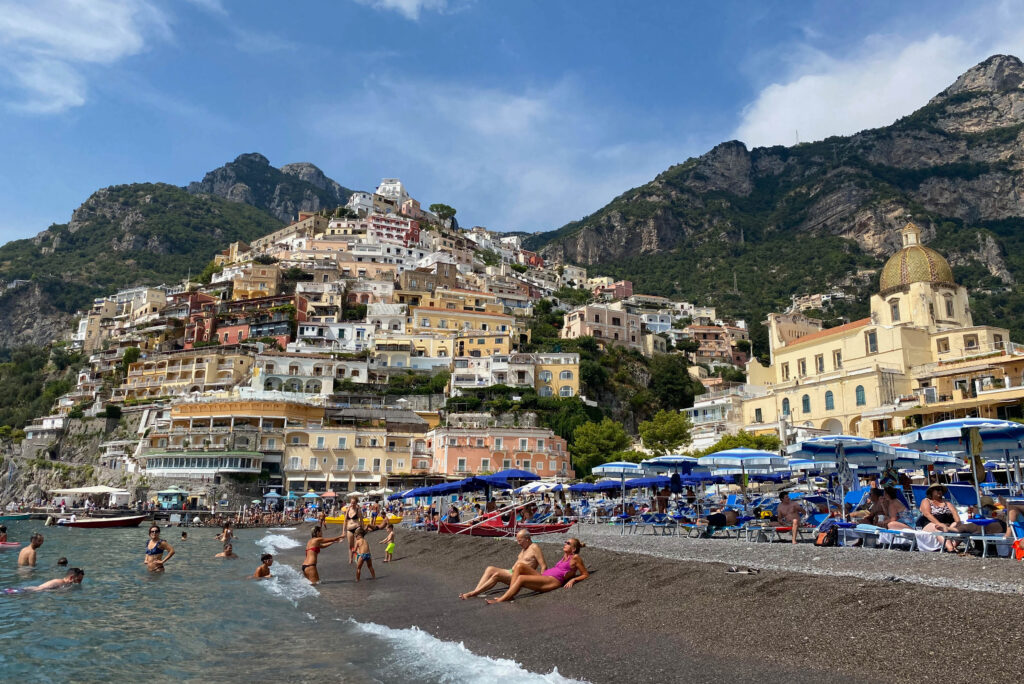 We spent three nights at this wonderful hotel, and we couldn't have been happier.  It's not 5-star luxury but it's beautifully appointed, in a perfect location with stunning views.  
Just outside of the crowded tourist area, it's just a 5-minute walk along a pedestrian road from the beach, so very easily accessible (the further you go from the beach, the steeper you climb). But no matter how busy and noisy it was outside, it felt so peaceful once we walked through the front door.  Everyone from the ladies at the desk to the staff at breakfast were always very friendly, smiling and helpful.
We stayed in a Classic Room which had a king-size bed, double windows, and a nice terrace.  The rooms are mostly white with brightly colored, hand-painted tiles covering the floor.  The rooms are white-glove spotless, and the bed was very comfortable.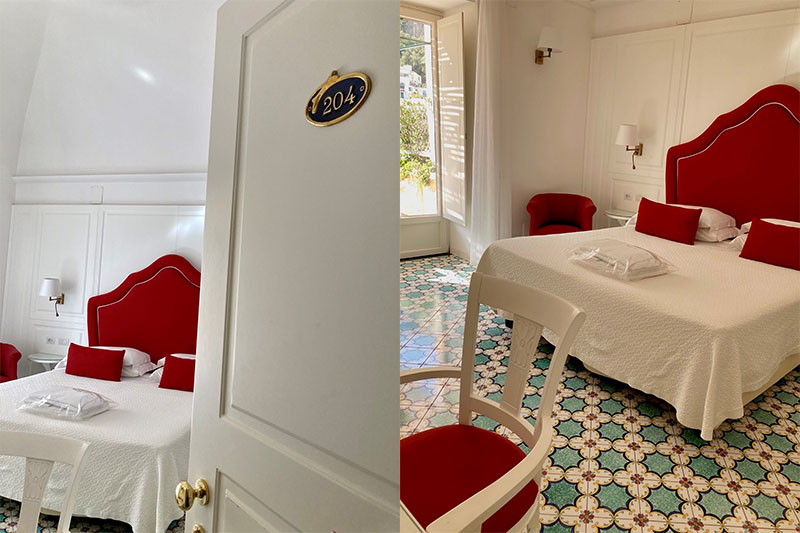 We didn't have sweeping ocean views but instead, we looked out at the stunning cliff-town of Positano which we loved.  We agreed that you can get a sea view in so many destinations in the world… but in how many places can you see a view like this??
The breakfast was lovely, located on the patio.  There's a buffet with croissants, cured meats and cheeses, and fruit for the taking.  But you can also order more hearty meals from the kitchen which is wide open for viewing. 
There were many delicious restaurants between the hotel and the beach, along the pedestrian thoroughfare, so we were spoiled for choice. Further up the hill were a few restaurants and Franco's Bar (which we could never get in to), all with panoramic views of the sea and the town. 
If you're looking for high-end luxury, this hotel isn't for you and there are alternative out-of-this world options close by that I can highly recommend (Le Sirenuse and Il San Pietro).  But given the location and quality of the hotel, I believe that it's excellent value (averaging around €350 – €500 per night). 
If we were to return to Positano, I wouldn't hesitate to stay here again.