When it comes to hotels, Rome definitely raises the bar on luxury lodgings. If money isn't an issue, then there is no shortage of ritzy and glamorous hotels where you can rest your head at night.  On my recent trip to Rome, I had the opportunity to stay at two of these luxury hotels – The St. Regis and Hotel de la Ville. 
While these hotels are completely different from one another, they are both elegant, creative, ideally located, and offer the perfect blend of history and contemporary. I honestly couldn't say that one is "better" than the other.  If your idea of a dolce vita vacation is pampering yourself with plush king-sized beds fitted with haute couture sheets, either of these hotels will certainly deliver, but they do each have their own unique style.
For an in-depth look at these top luxury Roman hotels, I have my impressions for you below:
The St. Regis Rome – a winning combination of history and charm – was originally opened in 1894 by Cesar Ritz.  The pioneer St. Regis in Europe and a social beacon for Romans and international travelers, the hotel has emerged to define a new era of brilliance. Today, the St. Regis Grand Hotel is a favorite among the stars including Madonna who has often stayed here during concerts and other events.
The St. Regis Rome is located in the heart of the city within walking distance of famed Via Veneto, the Spanish Steps and Via Condotti renowned shopping areas. Close to the Colosseum, Roman Ruins, Trevi Fountain and Piazza Navona.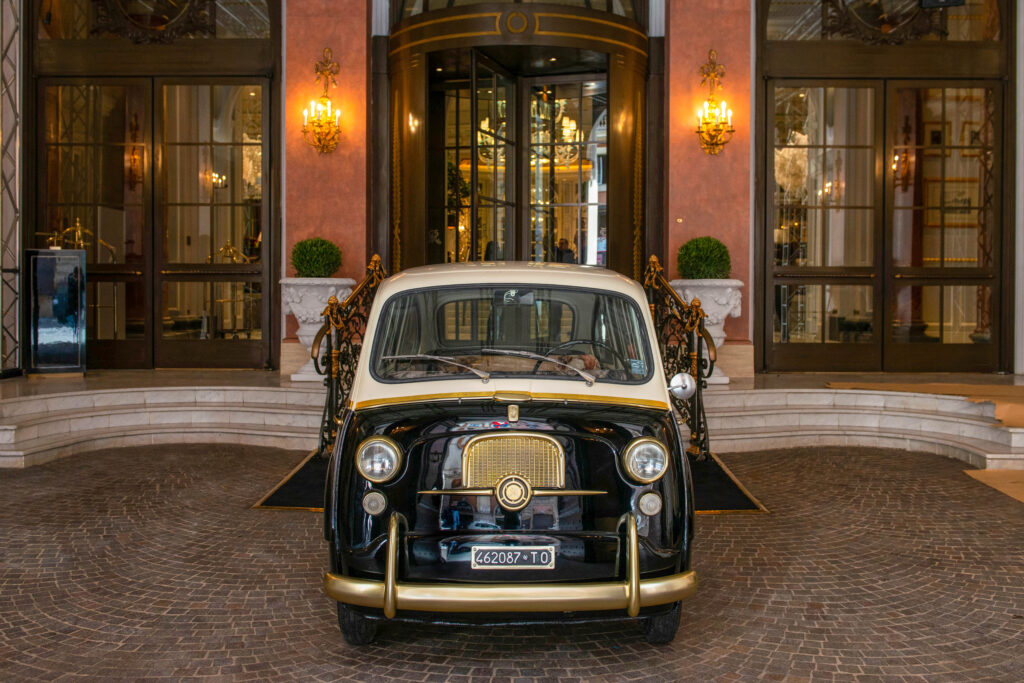 Entering through the front door, you will be immediately impressed by the glittering 5-meter, hand-blown Murano glass chandelier adorning the lobby.
The St. Regis Rome staircase with its adorned frescoes and bespoke details, is a signature element of every St. Regis around the world.  The staircase is right next to the elevator so we always took a moment to stop and look up at this masterpiece, every time we returned from exploring.
Named after the renowned hotelier César Ritz, the Ritz Ballroom was introduced in 1894 as the very first public ballroom in Rome. Designed by the Roman architect Giulio Podesti and decorated with frescoes by Mario Spinetti, the Ritz Ballroom has undergone a six-month meticulous restoration led by a team of accomplished artisans. This room is and has been used for events, wedding and conferences and when it's not being used, guests are free to explore and enjoy the frescoes, featuring eight scenes representing different moments of rural life with a nod to mythological themes. 
The hotel features 161 guestrooms and suites marvelously redesigned by award winning interior designer Pierre Yves-Rochon in 2019.  High-ceilinged and light-filled, the guestrooms and suites are styled with luxurious Rubelli fabrics, handmade glass and collectable curios.
We stayed in the Superior Room, which isn't the entry-level room but the next step up.   The room was a good size, it was bright and airy and incredibly cozy.  It was the perfect place to recover after our long journey from the United States.  
I had the opportunity to see the other rooms in the hotel and they are all designed in tones of cinnamon or powder blue, are enriched by precious fabrics and objets d'art. 
Below is the Superior Room (left image), the Deluxe Room (middle image) and the Junior Suite (right image).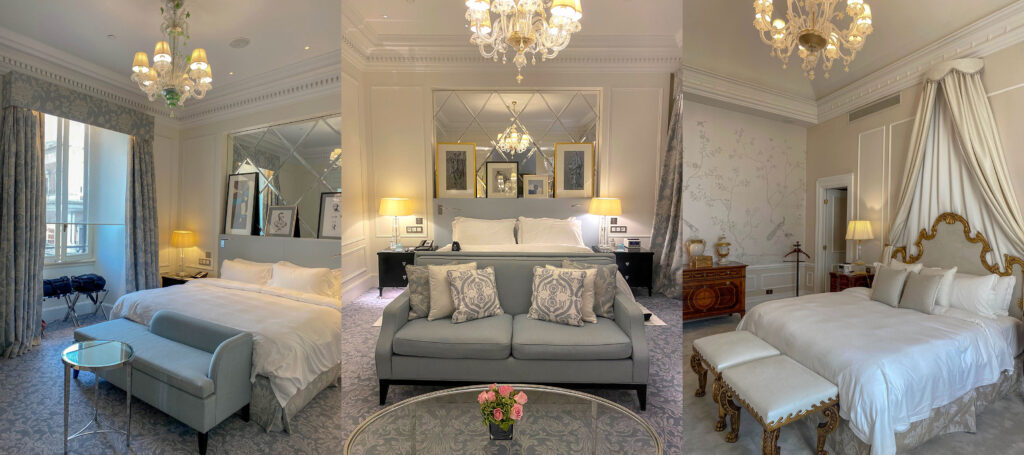 Bottom line:  The St Regis offers all that you would expect from an olde world charm standpoint and is conveniently located too.
Virtuoso Amenities for 2021/2022:
Upgrade on arrival, subject to availability
Daily full breakfast for two guests per bedroom, served in restaurant
$100 USD equivalent Food & Beverage credit to be utilized during stay (not combinable, not valid on room rate, no cash value if not redeemed in full)
Early check-in/late check-out, subject to availability
Complimentary Wi-Fi
Luxury hotelier group Rocco Forte have struck again in Rome with their second five star property. Sister to the local institution that is Hotel de Russie, the new Hotel de la Ville has taken over a prized piece of real estate atop the Spanish Steps. A former 18th century palazzo with a stunning design inspired by the iconic European 'Grand Tour', the jewel in its crown is a large rooftop drinking and dining space that takes in sweeping views of the roman skyline
Hotel de la Ville is perfectly located to explore the intricacies of the city by foot with the help of the expert team of concierges who can create one of a kind, tailor made experiences.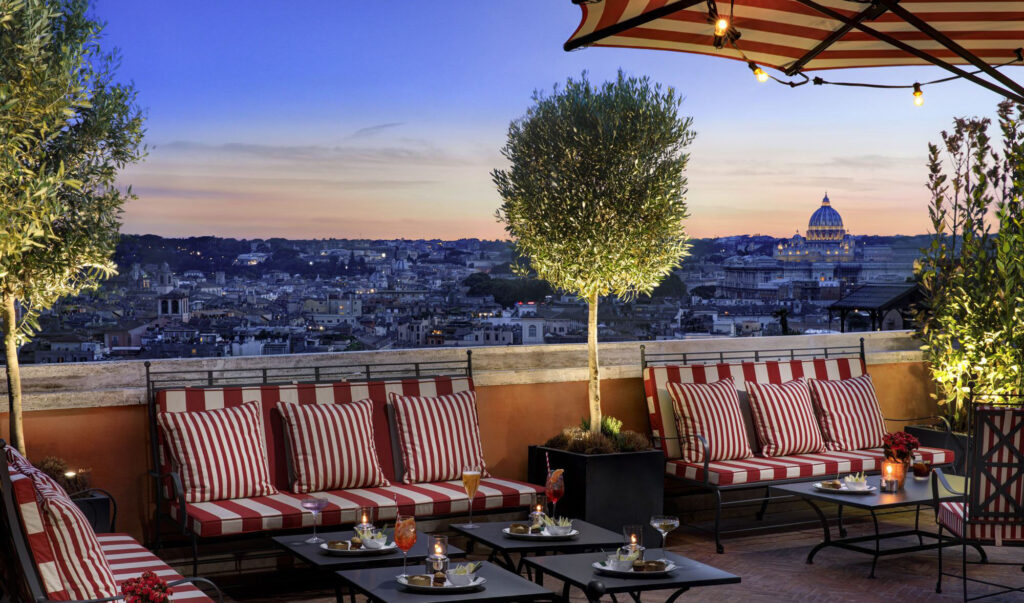 The 104 well-appointed rooms and suites are amongst the most elegant and spacious in Rome, while the signature suites offer unrivalled panoramic views of the city from their large terraces. 
We were lucky enough to have a Junior Suite which was huge.  It had a walk-in closet and an enormous rain shower, and is filled with plush, playful and contemporary furniture and fabrics.  We had a small terrace which looked down on the lovely courtyard, a hidden retreat away from the bustling city.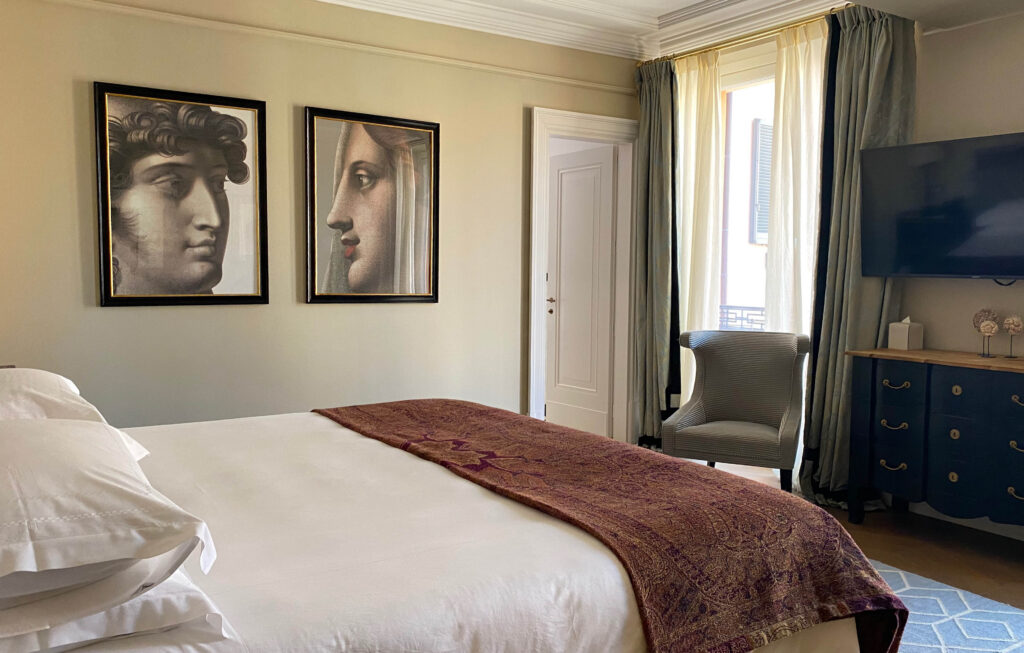 The courtyard is where daily breakfast is served and was also the view from our room.  Fusing three buildings into one, the courtyard design has been lifted by George Carter, a designer who specializes in creating gardens inspired by the simple geometry of 17th century. While we didn't have a view of the city, this was a wonderful and creative alternative.  
The only challenge was actually finding the courtyard from our room.  Because the three buildings have been fused together, the hotel is like a labyrinth with the hallways seemingly never ending.  It took me about 15 minutes to finally make my way to breakfast (which I honestly found to be quite entertaining).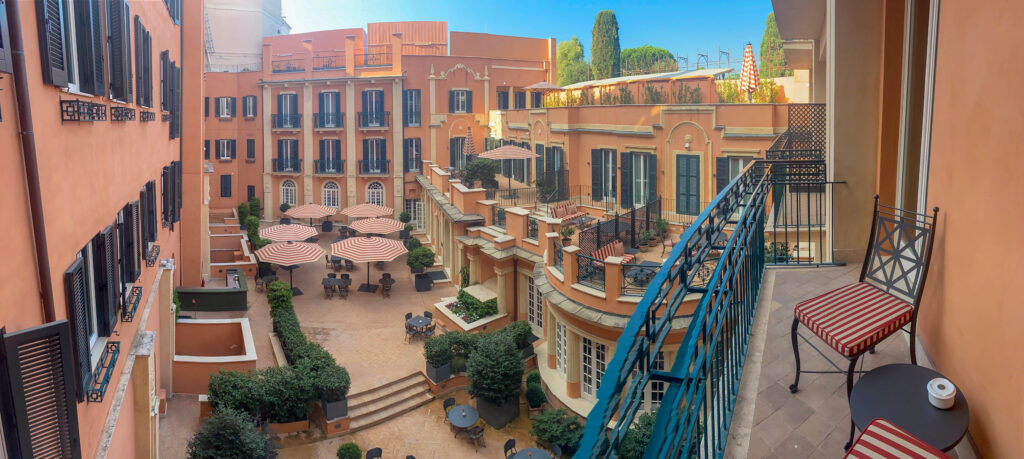 I thoroughly enjoyed wandering around the hotel, looking at the beautifully colorful and contemporary artwork.  Apparently, designer Tommaso Ziffer, in collaboration with Olga Polizzi, Director of Design for Rocco Forte Hotels, was inspired by The Grand Tour of the 18th century when English and German nobles collected pieces of art during their cultural journeys to European cities. 
The combination of old world with colorful contemporary was constantly striking.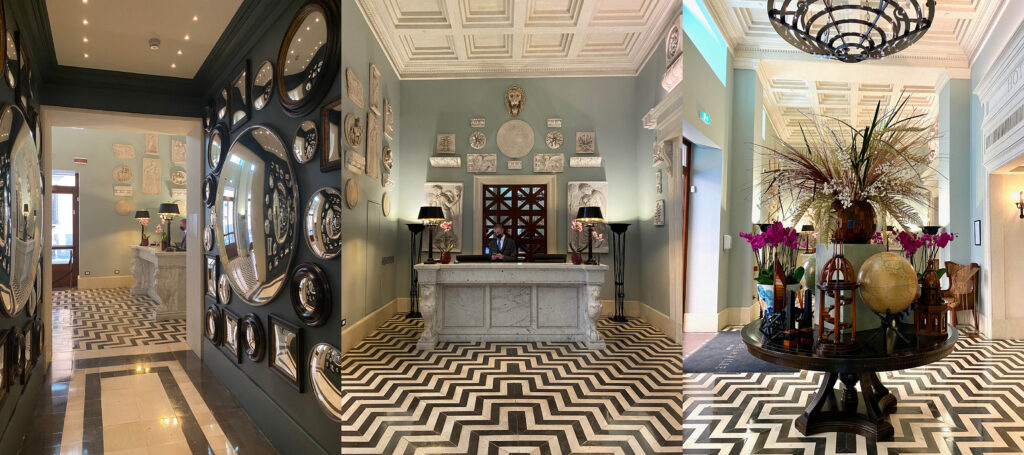 Bottom Line: Contemporary design, fine food and beverage venues in a prized Rome location
Virtuoso Amenities for 2021/2022:
Upgrade on arrival, subject to availability
Daily Buffet breakfast for two guests per bedroom
$100 USD equivalent Resort or Hotel credit to be utilized during stay (not combinable, not valid on room rate, no cash value if not redeemed in full)
Early check-in/late check-out, subject to availability
Complimentary Wi-Fi