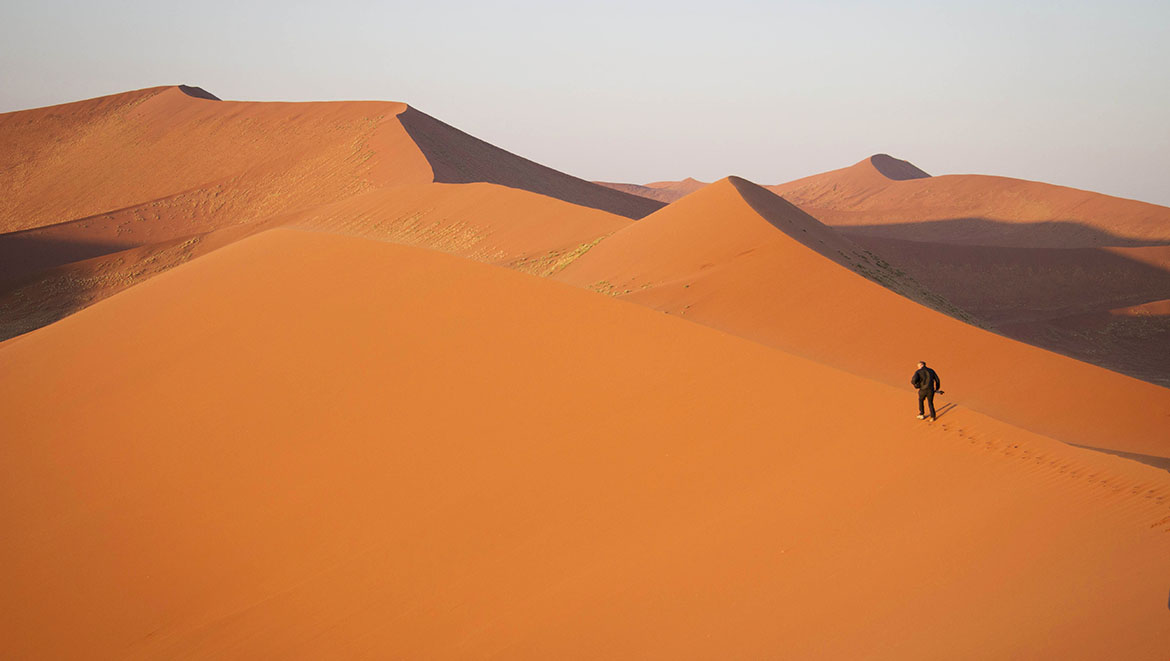 Few countries in Africa can match Namibia's sheer natural beauty. The country's name derives from its (and the world's) oldest desert, the Namib, and there are few more stirring desert realms on the planet – from the stunning sand sea and perfect dead-tree valleys at Sossusvlei to the otherworldliness of sand dunes plunging down to the ocean at Sandwich Harbour and the Skeleton Coast.
Make no mistake: Namibia is one of Southern Africa's best places to watch wildlife, especially in the country's north. Etosha National Park belongs in the elite wildlife-watching destinations – big cats, elephants, black rhinos and plains game in abundance. Damaraland is a wonderful place to see desert-adapted elephants and lions, and also happens to host Africa's largest population of free-ranging rhinos – rhino tracking is a real highlight here. 
A country of dramatic and striking scenery, the contrast of the Namibian landscape is an attraction in its own right.  Rugged mountains, wild coastlines and lush plains, the natural splendor of Namibia will leave you breath taken.
please contact us directly to book your spot
Total Cost: USD $5,295.00 per person
Pricing based upon double occupancy
Save 3.5% by paying with cash or check
Inclusions:
VIP Arrival Assistance at Johannesburg Airport
4 x Accommodation on a bed and breakfast basis
10 x Accommodation on dinner, bed and breakfast basis
1 x dinner at Joes Beerhouse, 1 x dinner at The Tug, 1 x dinner at Brewer and Butcher
Entrance Fees: Sossusvlei, Namibia Naukluft Park, Twyfelfontein, Organ Pipes, Damara Living Museum, Etosha National Park
Activities: Shipwreck Tour in Sandwich Harbour, Sundowner Driver at Grootberg, Rhino Tracking at Grootberg, Himba Village visit, carnivore feeding at Naankuse
VAT and Tourist Levy
Transport in a 24 seater coach, including fuel and driver.
Services of a bus driver for the duration of the tour
Services of one English speaking guide for the duration of the tour
Mineral water on board the vehicles – 1.5L per person per day (still water)
Exclusions:
All flights and airport taxes
Expenses of a personal nature, i.e. laundry, telephone expenses, gratuities, etc.
Any additional meals not mentioned above
Any additional activities not mentioned above
All relevant park and entrance fees that haven't been mentioned
Cancellation, baggage, medical and evacuation insurance – recommended!
Any new Government taxes, levies, etc which are beyond our control
All services that aren't mentioned
Let's Take A Look At The Journey
Day to Day Itinerary:
3 June: Arrival at Johannesburg Airport with Forced Overnight
Due to airline schedules, we will be forced to spend the night at the City Lodge Johannesburg Airport Hotel before moving onward to our Namibian Odyssey.
As soon as you deplane, our Airport Assistance Staff will meet you at the gate, holding a signboard with your name(s) on it. The officer will assist and take you to the priority line for immigration procedures.
After clearing immigration, you will be escorted to baggage reclaim to collect your luggage and take you onward to the hotel.
Meals: None
Accommodation: City Lodge Johannesburg Airport Hotel/ Classic Room
4 June: Windhoek Arrival
A very warm welcome to Hosea Kutako International Airport. You clear immigration and collect your luggage before you proceed to the arrival hall of the airport. Here, your two driver-guides welcome you.
Travel to Windhoek, the capital city of Namibia, where you check in at The Weinberg Hotel (check in from 14h00). In the afternoon you will be taken on a guided tour of Windhoek, showing you the historical highlights and buildings of interest.
Dinner is served at the rustic Joes Beerhouse.
Meals: Breakfast, Dinner
Accommodation: The Weinberg/Courtyard Upper Level Room
5 June: Windhoek to Sossusvlei
Departure to the Sossusvlei Lodge, located at the entrance to the Sossusvlei, where you will stay 2 nights. Driving time is approximately 5 hours.
Meals: Breakfast, Dinner
Accommodation: Sossusvlei Lodge/Superior Room
6 June: Sossusvlei, Dead Vlei, Sesriem Canyon
It's well worth it to get up early today, so you can enter the park at sunrise. Your travels take you through a picturesque dune landscape to the famous Sossusvlei. Here you have the opportunity to climb some of the highest dunes in the world and visit the Dead Vlei. En-route back to the lodge, you visit Sesriem Canyon.
Meals: Breakfast, Dinner
Accommodation: Sossusvlei Lodge/Superior Room
7 June: Swakopmund 
Enjoy breakfast at Sossusvlei Lodge before you depart via Solitaire along the endless gravel plains of the central Namib Desert to the Valley of the Moon and the Welwitschia Mirabillis. You reach the coastal town of Swakopmund in the afternoon. Driving time is approximately 5 hours.
Dinner will be served at The Tug.
Meals: Breakfast, Dinner
Accommodation: The Delight Hotel/Classic Room
8 June: Walvis Bay
Early rise and travel through to Walvis Bay. Here you join a guided Sandwich Harbour Shipwreck Tour.
The Namibian South-Atlantic west coast is famously dangerous with foggy weather, many reefs, strong Benguela Current and swells. It is shrewn with countless remains of dead ships. One of these is the Shawnee a transport tug that ran aground on 16 February 1976, 15 miles north of Conception Bay. Another is the wreck of the Eduard Bohlen passenger and cargo ship, that ran aground south of Conception Bay on 5 September 1909 in thick fog, and now lie about 600m inland.
You return to Swakopmund in the late afternoon, early evening. Dinner is served at Brewer and Butcher
Meals: Breakfast, Lunch, Dinner
Accommodation: The Delight Hotel/Classic Room
9 June: Damaraland
Enjoy a leisurely breakfast at The Delight before departing from Swakopmund. Your travels take you in a northerly direction along the Atlantic coast to Henties Bay. Here you turn in land and travel via Uis and the Brandberg Mountain Range into the central Damaraland. Driving time is approximately 4 hours.
Meals: Breakfast, Lunch, Dinner
Accommodation: The Delight Hotel/Classic Room
10 June: Grootberg Lodge
After breakfast you visit the rock engravings of Twyfelfontein, the organ pipes and burnt mountain. As you depart from the area, you stop at the Damara Living Museum. Here, the Damaras showcase their culture and traditional way of living.
Continue your travels to the Grootberg Lodge, where you spend the next two nights. In the afternoon you join a sundowner drive.
Meals: Breakfast, Dinner
Accommodation: Grootberg Lodge/Chalet
11 June: Rhino Tracking Excursion
Once listed as critically endangered, black rhino populations in Namibia have increased dramatically thanks to a conservation partnership between local communities and eco-tourism efforts.
This excursion is a combination of walking and driving amidst the cliffs and the volcanic basalt ridges of the Damaraland Region. At lunchtime we stop near the springs and enjoy refreshments. This almost full-day activity of driving on bumpy roads and walking in rocky terrain is not for the faint-hearted. Rhino sightings are not guaranteed.

Meals: Breakfast, Dinner
Accommodation: Grootberg Lodge/Chalet
12 June: Otjikandero Himba Village and Etosha National Park
Departure from Grootberg Lodge. Your travels take you to the renowned Etosha National Park. En-route you visit the Otjikandero Himba Village. The Himba people are a source of fascination to anyone who has seen the captivating photographs of red clay-covered Himba women with their elaborate hairstyles, decorative copper and iron jewelery, and animal-skin skirts.
You reach your accommodation in the late afternoon.
Meals: Breakfast, Dinner
Accommodation: Etosha Safari Lodge/Classic Bungalow
13 & 14 June: Etosha National Park
Explore the national park in our own bus and guide who will be familiar with the waterholes and the animals that frequent them. Early morning or late afternoon visits, in accordance with the Andersson Gate times, provide the best game viewing.
There will be an optional add-on to be introduced to African wildlife from the comfortable seat of a game vehicle.
And, after Etosha enchantment return to the lodge to relax, dive into the cool waters of the pools or indulge in quality food and wine – and peace.
Meals: Breakfast, Dinner
Accommodation: Etosha Safari Lodge/Classic Bungalow
15 June: Naankuse Lodge
After breakfast you depart from the Etosha Safari Lodge. Your travels take you in a southerly direction via Outjo, Otjiwarongo and Okahandja, back to Windhoek and onwards to the Naankuse Lodge.
In the afternoon you join a carnivore feeding tour
Meals: Breakfast, Dinner
Accommodation: Naankuse Lodge/Chalet
16 June: Journey Ends
You will be transferred to the Hosea Kutako International Airport where you will bid farewell to your guides and Namibia.
Meals: Breakfast
END OF SERVICES!
PLEASE CONTACT US DIRECTLY TO BOOK YOUR SPOT