23 October - 3 November 2023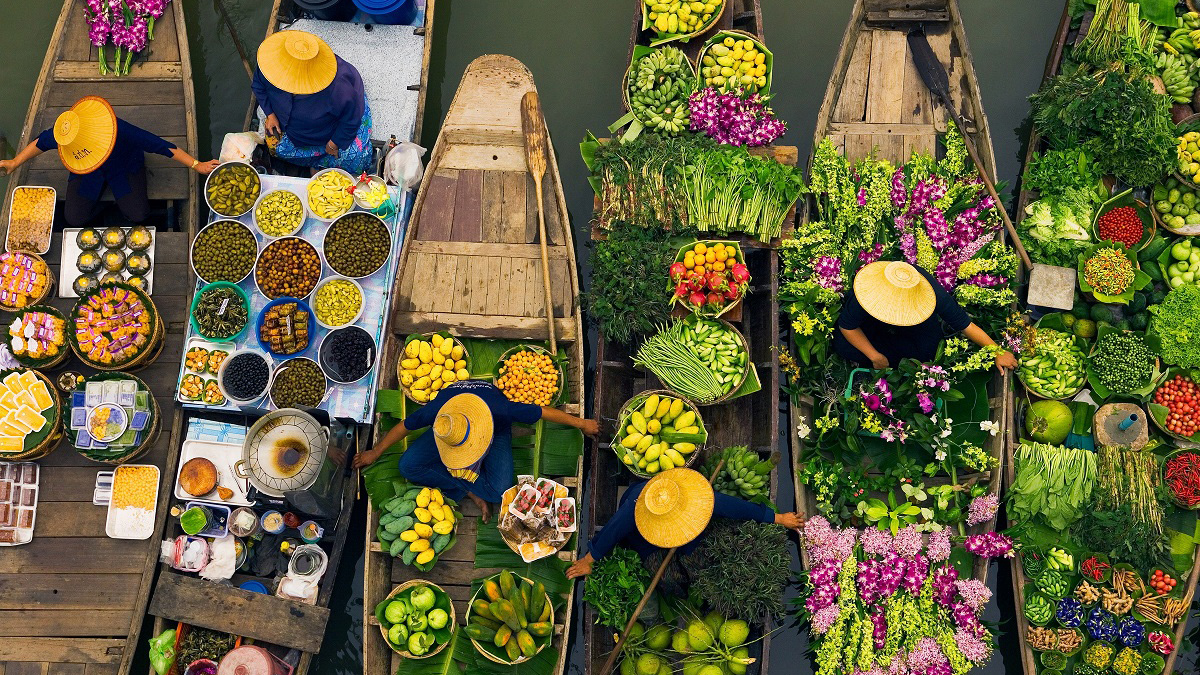 Indochine is a name that stirs the senses and emotions. It conjures visions of proud farmers in conical straw hats tending to their rice paddies. It conjures smells of lemongrass, ginger and mint, savory spices used in Vietnamese cooking. And it conjures the romance of a bygone colonial era, and the hope of a resilient people who look to a modern future, even as they retain the deep traditions that make Vietnam tours so fascinating.
Join us on our Vietnam tour for an experience that will take you deep into the culture as you eat your way from Hanoi to Saigon. Along the way you'll stop at the former imperial capital of Hue and the UNESCO World Heritage site of Hoi An. Enjoy unparalleled local access on our Vietnam tour, such as private dinners in a colonial mansion and a royal garden house, Vietnamese cooking classes and market tours with renowned chefs, and even a street food tour as you ride on the back of a vintage Vespa!
PLEASE CONTACT US DIRECTLY TO BOOK YOUR SPOT
total cost: $4,995.00 per person
Pricing based upon double occupancy
Save 3.5% by paying with cash or check
Inclusions:
8 nights of luxury hotel accommodation including daily breakfast, hotels tax and service charges
3 days / 2 nights aboard Ylang junk (Shared cruise/private cabin)
Private transfers and transportation on tour
Sightseeing with local English-speaking guides (one guide in each city)
Entrance fees and boat rides
Meals as specified – 13 breakfasts, 6 lunches, 4 dinners (meals only, no drinks/ water)
Airfares: HAN – HUI/ DAD – SGN (Economy class with airport tax)
Cold towels and water on sightseeing days
Airport Assistance Service on arrival on day 1 and departure on day 11
Non-inclusions:
Separate luggage truck
Visa
Other meals where not mentioned in the program
Drinks/water at included lunches and dinners
Other flights & airport taxes
Hotel early check in/ Late check-out
Overweight luggage
Personal expenses
Travel insurance
Tips & gratuities
Other services not listed in inclusive column
Please note:Effective March 15, 2022, the Vietnamese government has resumed pre-pandemic visa issuance policies. All previous visa restrictions have been lifted. Effective May 15, 2022, the Vietnamese Government no longer requires a negative COVID-19 test prior to entry into Vietnam.
Let's Take A Look At The Journey
23 October: Welcome to Vietnam!
As soon as you deplane, our Airport Assistance Staff will meet you just before the entrance to Immigration (or at the entrance of the terminal if there's no jet bridge), holding a signboard with your name(s) on it. The officer will assist and take you to the priority line for immigration procedures and provide support at the visa counter
After clearing immigration, our Immigration Officer will escort you to baggage reclaim to collect your luggage and introduce you to your guide, who will be waiting outside the terminal
Meals: None
Accommodation: Sofitel Legend Metropole Hotel/ Premium Room
24 October: Hanoi City Highlights & Afternoon Street Food Tour
Morning is at leisure or you can take the optional tour as below:
HANOI HALF-DAY CITY TOUR WITH OLD QUARTER CYCLO RIDE
Explore the charming city of Hanoi, often referred to as the 'Paris of the East', with its yellow ochre colonial buildings, tree-lined boulevards and scenic lakes. Visit the historic Ho Chi Minh Mausoleum, visit the One Pillar Pagoda, and continue to the Temple of Literature. In the afternoon, visit the fascinating Museum of Ethnology which houses an extensive collection of traditional costumes and artefacts from Vietnam's 54 ethnic minority groups. Drive back to central Hanoi for a walking tour through the famed Old Quarter known for its '36 streets of 36 wares' named after the original 36 artisan guilds that date as far back as the 13th century.
6.00 p.m. meet your guide in the hotel lobby and start your exploration.
Eating on the street is a very typical activity for Hanoians and makes up an important part of the city's unique culture. Depart in the afternoon for a leisurely walk with our tour guide to the Old Quarter. Make your way through streets lined with food vendors tending steaming vats of Pho (Vietnamese noodle soup) and line up with the other hungry customers to try this tasty cuisine. After experiencing Hanoi's insatiable demand for Pho, head to a nearby street market, alive with the sights and sounds of Hanoi – it is the essence of Vietnamese street culture. Sit down at a tiny shop to try a bit of Banh Duc – cooked rice powder with Vietnamese spices, served cool or hot depending on weather. Follow your guide into a small alley to get an idea of a typical "tube house" in Hanoi and then stop for a tasty banh mi.  
Conclude your day by watching an entertaining water puppet performance, a uniquely northern Vietnamese art form said to have originated in the flooded rice fields of the Red River Delta where villagers entertained themselves by manipulating puppets over the water.
Meals: Breakfast, Lunch 
Accommodation: Sofitel Legend Metropole Hotel/ Premium Room
25 October: Hanoi to Lan Ha Bay
Your luxurious floating home sets sail around noontime. We greet you with a refreshing welcome drink upon boarding while we acquaint you with the facilities and procedures of our Heritage Line ship – Ylang. As our unique journey begins, lunch is served in the light-flooded dining room on the terrace deck offering panoramic views of the passing scenery. We pass an ancient lighthouse built by the French more than a century ago. Heading deeper and further south into the maze of Lan Ha Bay, there is time to enjoy our activities offered onboard – take a plunge in the pool, enjoy from our selection of signature beverages at the bar, or settle into relaxing bliss and let us pamper you with one fine treatments and massages available in our expansive Ylang Spa.
Meals: Breakfast, Lunch, Dinner
Accommodation: Heritage Line Ylang/ Signature Suite 3D2N "Senses of Lan Ha"
26 October: Lan Ha Bay
For those who awake with the sun, coffee, tea, and pastries are offered. To get the full wellness experience from Ylang, a Tai Chi session is held on the sun deck to ease mind and muscles with the first rays of the sun. Once energized, breakfast is served at the dining room or to your suite before we set off to visit one of the few remaining local floating fishing villages. During lunch, Ylang continues to sail through the bay to a secluded spot in the bay. The afternoon is at your own pace and choice: you may like to swim and sun bath on a natural beach, or join in on a kayak tour – or a bit of both.
Meals: Breakfast, Lunch, Dinner
Accommodation: Heritage Line Ylang/ Signature Suite 3D2N "Senses of Lan Ha"
27 October: Lan Ha Bay to Hue aboard Included Vietnam Airlines Flight
Ylang moors this morning to offer to our guests some more kayaking or refreshing early morning swim – conveniently from the ship's platform. We serve a hearty breakfast, and leaving you some relaxed time on the deck day-dreaming before we have to say our final goodbyes
Drive to Hanoi airport for your flight to Hue.
Upon arrival at Phu Bai Airport, please proceed to exit gate and look for your guide who will be waiting at the lobby. Your guide will come to meet you up and transfer you to hotel.
Meals: Breakfast
Accommodation: Azerai La Residence Hue/ Superior Garden View
28 October: Hue City Highlights Tour – Onward to Hoi An
Once the imperial capital of the Nguyen Lords from the 17th to the 19th centuries, Hue's splendid emperors' tombs, ancient pagodas and the remains of the Citadel contribute to its undeniable royal charm. Enjoy a short cyclo ride from your hotel to the Imperial Citadel at the centre of the Complex of Hue Monuments inscribed by UNESCO as a World Heritage site. Enter through the towering main gate and appreciate the magnificent architecture and gardens while your guide explains the events and the intrigue surrounding the former royal court. Despite being heavily bombed during the Vietnam War, there are some incredibly well-preserved sections intact and others which are being carefully restored. After leaving the citadel, there's time for a short visit to the Royal Antique Museum. Drive to the Thien Mu Pagoda, Hue's best-preserved religious monument. Built in 1601, the seven-storied tower pagoda, perched on top of on a hill overlooking the Perfume River, is one of Vietnam's most recognizable icons. In the afternoon, visit the elaborate Khai Dinh Royal Tomb. Its architecture showcases elements of Eastern art and Western design. Notice the tomb's blackened concrete exterior and colorful mosaic interior. Then onward to Hoi An via the magnificent Hai Van Pass
Meals: Breakfast
Accommodation: Anantara Hoi An Resort/ Deluxe Balcony
29 October: Hoi An Culinary Experience At Market Restaurant & Half Day Hoi An Walking Tou
Learn the secrets of preparing traditional Vietnamese cuisine with a market tour and cooking class. Set off to a local market with a chef from the Market Restaurant and Cooking School. Your chef will share shopping tips before continuing to the school where you will participate in entertaining, hands-on cookery course held in one of three teaching areas with modern equipment for a truly immersive cooking experience.
This afternoon, meet your guide and start your exploration. Between the 15th and 19th centuries, Hoi An known then as 'Faifo', was a prosperous trading port. Today, this World Heritage ancient town is recognized for its well-preserved architecture, pedestrian-only streets and distinctive local cuisine, allowing visitors a glimpse of its illustrious past. Hoi An's narrow lanes are ideal for a guided walking tour of its many atmospheric sights
Meals: Breakfast, Lunch
Accommodation: Anantara Hoi An Resort/ Deluxe Balcony
30 October: My Son Temple
The UNESCO World Heritage Centre of My Son is the site of Vietnam's most extensive Cham structural remains. Morning departure from Hoi An on a scenic 1.5hr drive to the My Son complex and explore the 20 temple towers still standing today (from a total of at least 68 original structures), set in a verdant jungle valley surrounded by hills and overlooked by massive Cat's Tooth Mountain. Stroll around the temple complex, rediscovered in the late 19th century, to learn about the fascinating Cham culture, architecture and civilization. Notice the strong ties to Hindu divinities, namely Shiva, regarded as the founder and protector of Champa's dynasties, before returning to Hoi An
Meals: Breakfast
Accommodation: Anantara Hoi An Resort/ Deluxe Balcony
31 October: Hoi An to Saigon aboard Included Vietnam Airlines Flight
Meet your guide in the hotel lobby and transfer to the airport for your flight to Saigon
Upon arrival Tan Son Nhat airport, please proceed to exit gate and look for your guide who will be waiting at the lobby. Your guide will come to meet you and transfer you to the hotel.
This evening, meet your guide and start your exploration.
The darker the night gets, the more vivid Saigon becomes! Get ready for a fascinating ride by vintage vespa tonight to discover busy Saigon after dark, together with delightful local food tasting in the most authentic local restaurants. It's such a great chance for you to experience the Southern Vietnam specialties. Then continue to zig zag through the hustle and bustle of the streets. End up your night at a cozy speak easy bar to taste some signature cocktails (or mocktails for your children) and have a chat with people here. Get back to your hotel and call it a night
Meals: Breakfast, Dinner
Accommodation: Park Hyatt Saigon Hotel/ Park Room City View
1 November: City Highlights Tour & Visit Cu Chi Tunnels (By Road) & Traditional Dance Performance and Dinner at Ambassador's Former Residence
With over eight million inhabitants and four million motorbikes, Saigon is truly a city that never sleeps. Despite its modernity, Saigon maintains a strong link to the past and our city tour takes in some of Saigon's most historic landmarks. Experience Saigon's famed street coffee culture while your guide provides a brief language lesson as well as insights into daily life of a Saigonese.
From Saigon, take a 2hr drive northwest to the famous Cu Chi Tunnels, an immense network of connecting underground tunnels started in 1948 to protect the Viet Cong guerrillas from the French air and ground sweeps. The tunnels also served as living quarters, communication and supply routes, and housed hospitals, food and weapons caches. Touring the underground compounds will provide a better understanding of the history of the tunnels, the hardship of life in the tunnels and the Vietnamese resilience during combat. Return to Saigon.
Meals: Breakfast
Accommodation: Park Hyatt Saigon Hotel/ Park Room City View
2 November:Inside the Heart of Mekong Delta River Life
Early morning departures leave from Saigon for a 1.5hr drive to Ben Tre, the gateway to the Mekong Delta. Escape the high-energy city for a day of exploring sprawling rice paddies and colorful fruit farms.
Arrive at the quaint An Khanh hamlet, where travelers will visit a small home factory that makes the traditional dish of sticky rice covered by coconut leaves.
Meet with the owner and her hard-working team who will teach you about how they use century-old traditional methods to make this special and tasty cake.
Continue this rural journey of discovery with a short drive to meet a local family in Quoi Son village. After wandering though the lush gardens of this village, a motorboat awaits your arrival to begin a thirty-minute excursionpassing peaceful scenes of countryside living. Trade boat for bicycle and enjoy a relaxing ride over easy, level terrain as you travel through narrow village lanes lined with fruit orchards and customary cottages. When you arrive at your destination, sample exotic fresh fruits on the orchard of a local fruit farmer. Here you can also choose to ride on either a horse-drawn cart or tri-motorcycle through the lush surroundings of the fruit farms before boarding a sampan for a ride along the narrow canals of the Mekong.
End your excursion at a local farmer's house where a lunch of Mekong Delta specialties will be served before driving back to Saigon.
Meals: Breakfast, Lunch
Accommodation: Park Hyatt Saigon Hotel/ Park Room City View
3 November: Saigon Departure
Meet your guide in the hotel lobby and transfer to the airport for your flight back home. 
On arrival at the airport (2hrs before flight time for international flights), our representative will collect your tickets, passport and luggage and proceed to check in and obtain your boarding pass. When all your documents are in order, our representative will hand them over to you and assist you with immigration procedures before escorting you to the waiting area
Meals: Breakfast
END OF SERVICES!
PLEASE CONTACT US DIRECTLY TO BOOK YOUR SPOT