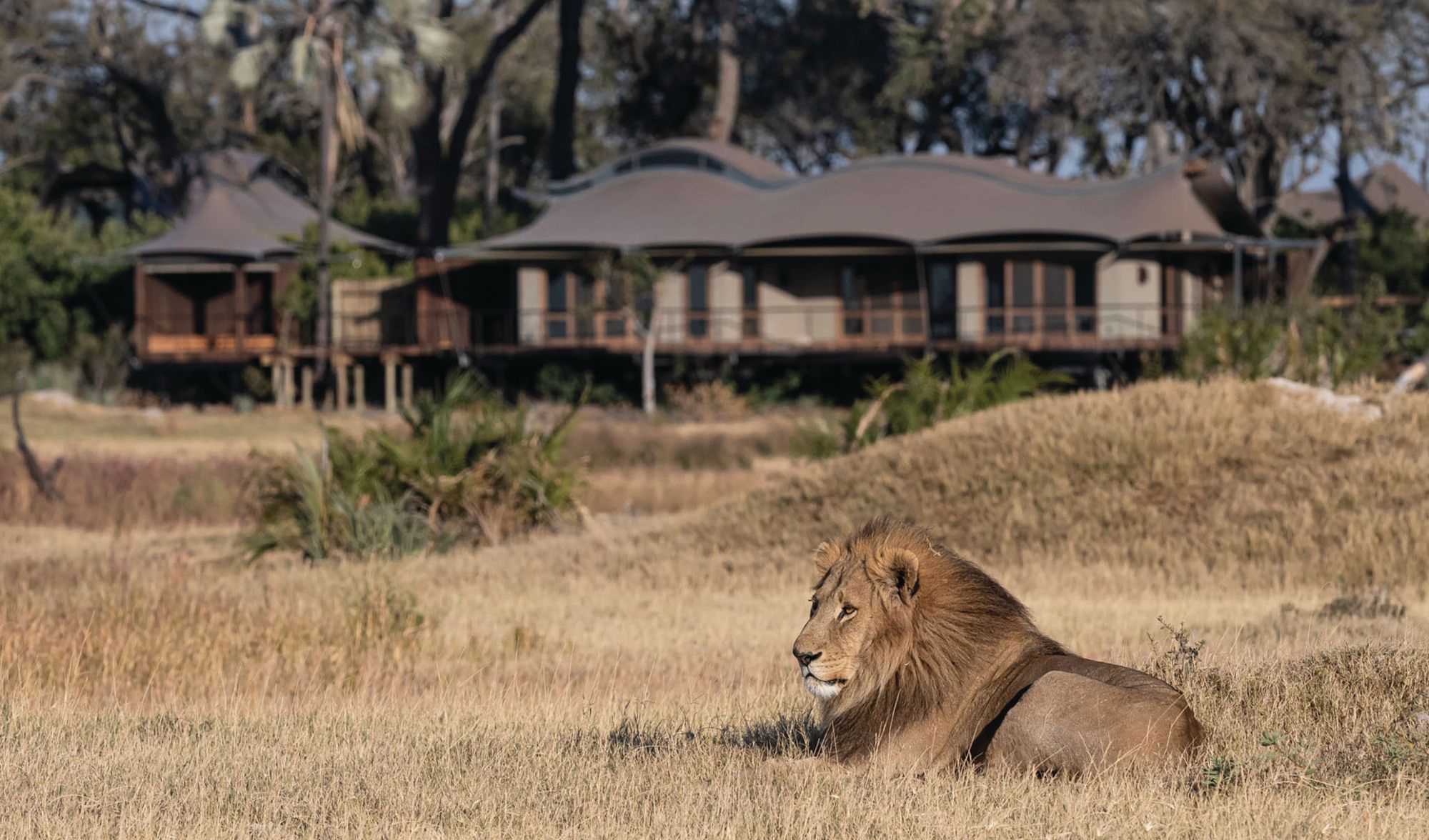 Blessed with some of the greatest wildlife spectacles on earth, Botswana is one of the great safari destinations in Africa. The country's most striking features are its relative flatness and aridity. This makes the Okavango Delta even more remarkable: a wetland within a desert that receives its waters from rain falling in Angola, 1,000 kilometres away.
Having achieved independence in 1966, Botswana has gone on to become a true African success story. The country's leaders have adopted an innovative approach to tourism, believing that low-volume, experiential ecotourism was the best way to create a sustainable conservation economy and uplift communities while still preserving the environment.
PLEASE CONTACT US DIRECTLY FOR AN EXACT QUOTE.
Day to Day Itinerary:
Day 1: VIP Arrival and Private Transfer to Toka Leya Camp (2 Nights, Fully Inclusive)
Upon arrival at Livingstone Airport, you will be met by your driver for private road transfer to Toka Leya Camp where you will spend 4 nights.
Day 2: Full Day in Livingstone at Your Leisure
Place: Overlooking the mighty Zambezi River and some of its islands, Toka Leya is the ideal combination of relaxation and adventure. Game drives and river cruises can be followed by a therapeutic treatment at our spa; tours of Victoria Falls, a nearby rural village and Livingstone town add cultural and historical diversity. Fishing, rhino tracking and plenty of adrenaline-filled activities add excitement to the experience. 
Wildlife: Toka Leya overlooks the impressive Zambezi River where hippo, crocodile and elephant are often seen, as well as an incredible diversity of birdlife. In addition, it is centrally located in the Mosi-oa-Tunya Park which hosts species such as buffalo, giraffe, zebra, wildebeest and white rhino. The occasional predator may be seen. 
Accommodation: Toka Leya is ideal for the beginning of an African safari. Morning explorations of the river, the surrounding Mosi-oa-Tunya National Park or nearby Victoria Falls can be followed by a tranquil afternoon at our spa or practicing inspired yoga on the panoramic deck of the gym. The camp's twelve spacious, en-suite safari-style tents (including three family rooms) with expansive decks serve up dramatic views and glimpses of wildlife. Limiting our footprint on this pristine area, elevated wooden walkways weave between the guest tents and the main area where the dining, bar and lounge areas are complemented by an infinity pool, a sundeck for sumptuous meals and a convivial fire pit for night-time gatherings. 
Purpose: Thanks to our tree-planting project, pioneering energy-saving systems and recycling initiatives, this formerly degraded site has been rehabilitated to become a lush riverine woodland once more. We (guests included) continue to plant trees, even donating to renew other sites in Zambia. We take pride in the community partnerships we have created here as well.
Day 3: Livingstone to Kings Pool, Linyanti (3 Nights, Fully Inclusive)
After breakfast and check out, you will check out for private road transfer to Kasane Airport.  This transfer will require a border crossing into Botswana.
Upon arrival at Kasane Airport, you will board your Wilderness Air Transfer to Kings Pool Airstrip.  From there, you will be collected by your guide for game drive transfer to Kings Pool Camp where you will spend 3 nights.
Days 4 & 5: Time on Safari at Kings Pool Camp

Place: Named for Scandinavian royalty, this stylish camp overlooks the oxbow-shaped King's Pool Lagoon and Linyanti River system. Activities include day and night game drives, guided nature walks, and nearby hides, ideal for photographing birds and wildlife. In the dry season, guests can spend their siesta watching game come down to drink at the unique underground hide, where the water is at eye level. Seeing elephant feet and trunks almost within touching distance while safely inside is an experience that transcends that of an ordinary safari.

Accommodation: This 100% solar powered camp has seven well-appointed thatch and canvas twins and one suite, each boasting a spacious bedroom and lounge area leading to a veranda that soaks up the gorgeous views of the lagoon. The sumptious main area comprises a pool, lounge, library, dining and convivial bar area stylishly set on expansive raised decks close to the water's edge. An open-air 'kgotla' for evening dining under the stars.
Purpose: One of the camp's key purposes is to ensure the continued protection of a piece of land in the jigsaw of the Kavango-Zambezi Transfrontier Conservation area – which is pivotal for elephant and wild dog dispersal and the existence of declining species like roan and sable antelope.
Day 6: Linyanti to Mombo Camp, Okavango Delta (3 Nights, Fully Inclusive)
After morning game drive activities and check out, you will be transferred to the airstrip where you will board the Wilderness Air Transfer to Mombo Airstrip.
Upon arrival, you will be met by your guide for game drive transfer to Mombo Camp where you will spend 3 nights.
Days 7 & 8: Time on Safari at Mombo Camp
Place: A UNESCO World Heritage Site, the Delta stretches over two million hectares (over 4.9 million acres) of floodplains, where meandering channels weave around thousands of palm-fringed islands, where the clear, lily-covered water is pure enough to drink. Located in the Delta's renowned Moremi Game Reserve in the north-eastern corner of Chief's Island / once a tribal leader's hunting ground / Mombo today is a beacon of ecotourism, leaving a light footprint in paradise. With its mix of habitats attracting large herds, followed by numbers and varieties of predators, discover why Mombo, is truly the "Mother of all Camps".

Wildlife: The Mombo Wildlife Area is known as The Place of Plenty, highlighted by the massive concentrations of plains game and predators that live here. These include all the big cats, of which lion sightings are frequent. Leopard, spotted hyaena, large herds of buffalo, elephant, giraffe, blue wildebeest, Burchell's zebra and more abound, while cheetah and African wild dog sometimes move through the area. Or perhaps glimpse one of Africa's rarer species: perhaps a pangolin or honey badger.
Accommodation: Rebuilt in 2018, repurposing much of the material, our flagship camp maintains the integrity of its pristine environment through the use of natural materials, minimal human footprint and 100– solar status. Elevated on wooden decks beneath towering mangosteen and fig trees, Mombo overlooks a spectacular floodplain teeming with wildlife. Eight elegant, expansive guest suites celebrate the history and traditions of the legendary original camp. Each suite ojers an indoor lounge area, separate bedroom and bathroom, indoor and outdoor showers, elegant copper bathtub, and an outdoor private sala with a double day bed, sunken couch, private lunge pool, and wrap-around veranda / all of which immerses one deeper into the bush and the wonders of Mombo's private traversing area.
Purpose: Mombo's isolation and sheer diversity of suitable vegetation makes the area ideal for dedicated conservation ejorts to ensure the pristine habitats and dense wildlife are preserved for future generations.
Day 9: Mombo Camp to Vumbura Plains North (3 Nights, Fully Inclusive)
After morning game drive activities and check out, you will be transferred to the airstrip will you will board the Wilderness Air Transfer to Vumbura Airstrip.
Upon arrival, you will be met by your guide for game drive transfer to Vumbura Plains North where you will spend 3 nights.
Days 10 & 11: Time on Safari at Vumbura Plains
Place: Contemporary and luxurious Vumbura Plains lies in an area that is a mix of water and dry land habitats. The wildlife is abundant and diverse, so that both land and water activities on vehicles, mekoro and boats deliver an all-round African safari experience.
Wildlife: The annually inundated grasslands of the Okavango Delta surrounding Vumbura Plains are locally referred to as "melapo", and offer good seasonal viewing of elephant, giraffe, impala, sable antelope, kudu, zebra, common waterbuck and reedbuck, tsessebe, wildebeest, red lechwe and Cape buffalo. Hippo and crocodile are common in the waterways. Predators include the African wild dog, several resident prides of lion, as well as leopard, cheetah and African wildcat. Birding is exceptional all year round.
Accommodation: Vumbura Plains comprises two satellite camps, each with its own main area with an expansive vista across the floodplains, and furnished with idiosyncratic objets d'art. The fourteen raised luxury tents (eight, including two family units, and six with no family accommodation, at North and South camps respectively) are unique and stylish in design, with extensive use of light, wood and space. Each includes a sunken lounge, sala, and plunge pool. Each of the two family units has private decks linking the two separate tents.
Purpose: The Vumbura Concession is leased from remote rural communities organised under the Okavango Community Trust. The result of this partnership includes socio-economic beneqts, livelihood diversification, and benefits from training and skills development for the people of the villages / as well as more positive attitudes to tourism and conservation.
Day 12: Depart Botswana
After breakfast and check out, you will be transferred to the airstrip where you will board the Wilderness Air Transfer to Maun Airport.
Upon arrival at Maun Airport, you will head to the international departures terminal and check in for your outgoing flight. 
Let's Take A Look At The Journey